Top Rooftop Bars in Ho Chi Minh City
It is quite difficult to make a list of the top amazing rooftop bars in Ho Chi Minh City. Ho Chi Minh City is considered as the interesting Southeast Asian city with the mix of new and old, expensive and cheap, traditional and modern. But if you want to find places to enjoy "high" in this city, we will help you through this post. While the sun goes down, you sit in the bar, enjoy cocktails, as well as the view of surrounding areas, are the things everyone loves. But if you try this experience in Paris, London, or New York, you can afford it. Coming to Vietnam, there are some top amazing rooftop bars in Ho Chi Minh City and they are suitable for your budget.
1. Chill Sky Bar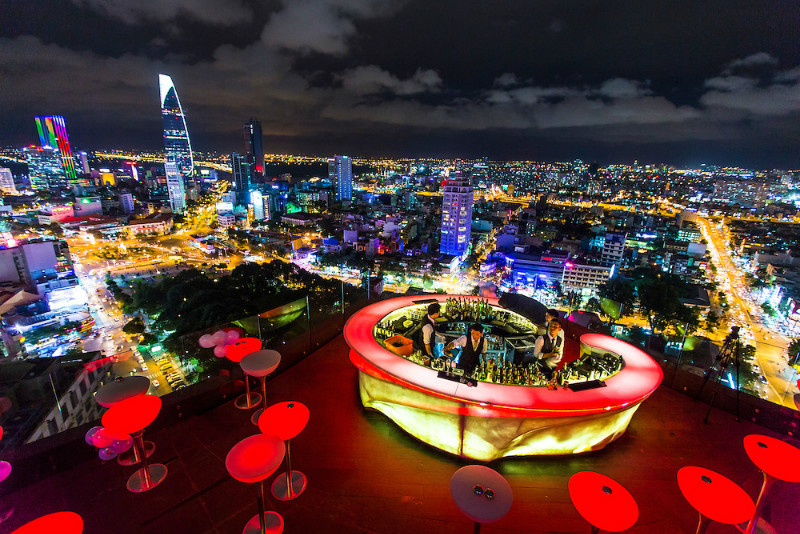 Chill Sky Bar is known as the coolest rooftop bar in Saigon and attracts people by its bright things, the steakhouse as well as the exquisite decoration. The bar is with the open air together colorful lights and amazing views. On the early evenings, you can enjoy the gentle sounds. Later, it is the time for hip-hop, house music or EDM played by live DJs.
Address: 26th and 27th Floor, AB Tower, 76A Le Lai St, Ben Thanh Ward, D1.
2. Air 360 Sky Bar
Air 360 Sky Bar is considered as a new member of Capella Entertainment family than Chill Sky Bar. Coming to this bar, you can enjoy the outstanding air along with the inventive drinks. There is a certain thing that you will never get bored with this atmosphere. In addition, there is also a pool which will be served for the personal parties.
Address: Rooftop 22nd-23rd, Ben Thanh Tower, 136-138 Le Thi Hong Gam St, D1
3. Liquid Sky Bar
Liquid Sky Bar is located on the Riverside Renaissance Saigon Hotel and is believed as one of unique rooftop bars. This place consists of a bar which is glass-encased along with a pool in the large center. A lot of kinds of smooth cocktails together with the delicious dinner are also served to the consumers. From here, you can have an overview of the riverfront side of District 1 and District 2 which is a developing area. So Liquid Sky Bar is a name in the list of top amazing rooftop bars in Ho Chi Minh City.
Address: 8-15 Ton Duc Thang St, D1
4. Breeze Sky Bar
From this rooftop bar, you can enjoy the amazing view of Saigon River. This is really a good place for you to relax and enjoy the life in Saigon River. This is the place where "The Quiet American" was written by Graham Greene. Breeze Sky Bar is designed in the old and luxurious style. You will never regret choosing this place to pay a visit.
Address: 5th Floor, Hotel Majestic, 1 Dong Khoi St, Ben Nghe Ward, D1.
5. Shri
Shri lies on the top of the Centec Tower which is located on one of the busiest areas. People coming here will be immediately impressed by its particular view of the city. If the weather is fine, it is very great for you to book an outside table.
Address: 23rd Floor, Centec Tower, 72-74 Nguyen Thi Minh Khai St, D1.
6. Grand Café
The Grand Café is located on the roof of one old hotel. This is the great choice for you to come to have a cup of coffee at lunch or get some drinks after working hours. Coming here, you can enjoy the pretty view of the city as well as see the Bitexco Financial Tower which is considered as a signal of Saigon.
Address: 20th Floor, Grand Hotel, 8 Dong Khoi St, Ben Nghe Ward, D1.
7. Glow Sky Bar
Glow Sky Bar is designed in the modern style and is the newest member of the rooftop bars. This place offers you a good service of booking the seats online. This rooftop bar provides the wooden decking, glowing objects along with the big glass screens and you can enjoy an incredible view while coming here. The good cocktails, as well as the chilled sounds, will make you much more satisfied.
Address: 13th Floor, President Place, 93 Nguyen Du St, D1
About the author: Ana Do is one of the most famous American journalists working as an editor in the Times. Also, she is a fan of travel. She has been spending many years on visiting a lot of wonderful places all over the world. And Ho Chi Minh City is one of them.